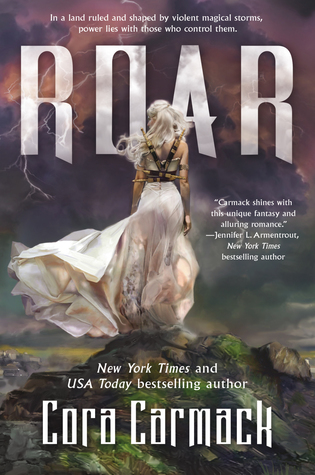 Aurora Pavan comes from one of the oldest Stormling families i
n existence. Long ago, the ungifted pledged fealty and service to her family in exchange for safe haven, and a kingdom was carved out from the wildlands and sustained by magic capable of repelling the world's deadliest foes. As the sole heir of Pavan, Aurora's been groomed to be the perfect queen. She's intelligent and brave and honorable. But she's yet to show any trace of the magic she'll need to protect her people.
To keep her secret and save her crown, Aurora's mother arranges for her to marry a dark and brooding Stormling prince from another kingdom. At first, the prince seems like the perfect solution to all her problems. He'll guarantee her spot as the next queen and be the champion her people need to remain safe. But the more secrets Aurora uncovers about him, the more a future with him frightens her. When she dons a disguise and sneaks out of the palace one night to spy on him, she stumbles upon a black market dealing in the very thing she lacks—storm magic. And the people selling it? They're not Stormlings. They're storm hunters.
Legend says that her ancestors first gained their magic by facing a storm and stealing part of its essence. And when a handsome young storm hunter reveals he was born without magic, but possesses it now, Aurora realizes there's a third option for her future besides ruin or marriage. 
She might not have magic now, but she can steal it if she's brave enough. 
Challenge a tempest. Survive it. And you become its master.

I feel like my review will be all over the place because that's how I was when I was reading this. I didn't really have any high expectations going into this book. I've read others by Carmack but it was a NA.
The base of the story is that we have a stormling princess with no stormling powers. In order to keep her secret, her mom arranges a marriage to another stormling. She decides to runs off with a group of stormhunters who have magic even though they aren't born with it. This is where our story starts.
I kind of like Aurora/ Roar. She knew how to stand up for herself and wasn't completely helpless like most princesses that we get in book series.
I kind of hated the insta love with her and Locke, but liked that she did fight him and call him out on so much stuff. I didn't like the blame that Locke put on Aurora for him falling for her. He blamed her beauty for him wanting her and took it out on her sometimes. Like seriously, just stop.

The world building was amazing and so was the writing. I feel like I kept waiting for the other shoe to drop though. I kept on waiting for something more serious to happen. Most of the book is either about training or her romance.
I'm still left with questions.

Oh well, I have to wait till 2018 to find out. I can't wait for the sequel!