Rating: 3 out of 5 stars ⭐️⭐️⭐️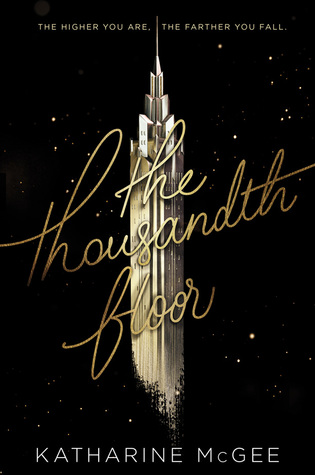 Published: August 30, 2016
---
NEW YORK CITY AS YOU'VE NEVER SEEN IT BEFORE.

A thousand-story tower stretching into the sky. A glittering vision of the future where anything is possible—if you want it enough.
WELCOME TO MANHATTAN, 2118.

A hundred years in the future, New York is a city of innovation and dreams. Everyone there wants something…and everyone has something to lose.
LEDA COLE's flawless exterior belies a secret addiction—to a drug she never should have tried and a boy she never should have touched.
ERIS DODD-RADSON's beautiful, carefree life falls to pieces when a heartbreaking betrayal tears her family apart.
RYLIN MYERS's job on one of the highest floors sweeps her into a world—and a romance—she never imagined…but will this new life cost Rylin her old one?
WATT BAKRADI is a tech genius with a secret: he knows everything about everyone. But when he's hired to spy for an upper-floor girl, he finds himself caught up in a complicated web of lies.
And living above everyone else on the thousandth floor is AVERY FULLER, the girl genetically designed to be perfect. The girl who seems to have it all—yet is tormented by the one thing she can never have.
Amid breathtaking advancement and high-tech luxury, five teenagers struggle to find their place at the top of the world. But when you're this high up, there's nowhere to go but down….
---
My Views: 


I went into this knowing that it was going to a book full of meaningless drama and wanted the entertainment. It delivered on that standpoint. Every time I opened it up it was like having a guilty pleasure. Escaping into all these different but also intertwined lives.
The world building was amazing! I loved all the details about the futuristic elements of the building and life in it. From the floating alcohol bubbles to the special contacts that they wear, you can tell the author really thought everything out.
Now some of the things I did like was that it was LGBT positive, they showed real class systems within the different floors (the higher your floor you live on, the richer you are), and that the characters weren't one dimensional.
Some of the things I didn't like was the way Avery/Atlas relationship was portrayed. I've read books where the step siblings have a relationship, this just felt a little weird since they grew up together as brother and sister. I also dislike the way this book ends kind of on a cliffhanger in a way.
I was all for giving it 4 stars until I got to the end. This book started out so great, I just think it fizzled out by the end. I still want to read the sequel, I just hope it gives me what I'm looking for.