Here are some of the new books that I'm excited for this month.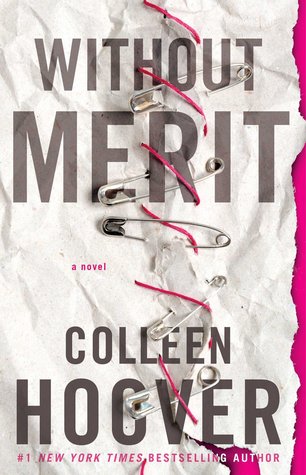 Without Merit – Colleen Hoover
The Voss family is anything but normal. They live in a repurposed church, newly baptized Dollar Voss. The once cancer-stricken mother lives in the basement, the father is married to the mother's former nurse, the little half-brother isn't allowed to do or eat anything fun, and the eldest siblings are irritatingly perfect. Then, there's Merit.
Merit Voss collects trophies she hasn't earned and secrets her family forces her to keep. While browsing the local antiques shop for her next trophy, she finds Sagan. His wit and unapologetic idealism disarm and spark renewed life into her—until she discovers that he's completely unavailable. Merit retreats deeper into herself, watching her family from the sidelines when she learns a secret that no trophy in the world can fix.
Fed up with the lies, Merit decides to shatter the happy family illusion that she's never been a part of before leaving them behind for good. When her escape plan fails, Merit is forced to deal with the staggering consequences of telling the truth and losing the one boy she loves.
Forget You, Ethan – Whitney G.
Keep your friends close and your enemies closer… 
I've hated Rachel Dawson since I was seven years old. My next door neighbor and number one sworn enemy, she's the reason why almost all of our childhood fights ended with me setting something of hers on fire. (Or, vice versa.)
She snitched on me when I broke curfew.
I snitched on her when she lied about having a boyfriend.
We went back and forth like this throughout high school, both vowing to never talk to each other again when we went off to college.
But that was until she showed up at my apartment during my senior year and asked me for a temporary place to stay. Until I realized just how much between us had changed, and the line I thought we'd never cross became harder and harder to ignore…
Sweet Little Lies (Sweet #2) – Abbi Glines
Book #2 in the Sweet Series. After facing a truth she never imagined, Beulah has to find a new path. Build a life without help and take care of her sister alone. Or does she…
What new releases are you excited about?