Hey ya'll! I saw this on Sarah Withers Blog and it looked fun, so I decided to go ahead and do it myself.
How do you keep track of your TBR pile?
I don't really keep track of it, I should get better at that.
Is your TBR mostly print or eBook?
They are a mix of both. I prefer print books to eBooks, but eBooks are easier to get (like instant download from Amazon or books from Net Gallery).
How do you determine which book from your TBR to read next?
I try to base it on what how I'm feeling at the time or if I have a book from Net Gallery that I need to review.
A book that's been on your TBR the longest.
Its so many books that I have on my TBR list that I should have BEEN read. The first on the list:
Inescapable by Amy A. Bartol
This was added February 13, 2015.
A book that you recently added to your TBR.
The Language of Thorns by Leigh Bardugo
The concept really pulled me in!
---
Love speaks in flowers. Truth requires thorns.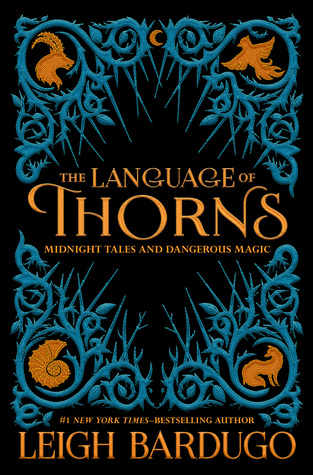 Travel to a world of dark bargains struck by moonlight, of haunted towns and hungry woods, of talking beasts and gingerbread golems, where a young mermaid's voice can summon deadly storms and where a river might do a lovestruck boy's bidding but only for a terrible price.
Inspired by myth, fairy tale, and folklore, #1 New York Times–bestselling author Leigh Bardugo has crafted a deliciously atmospheric collection of short stories filled with betrayals, revenge, sacrifice, and love.
Perfect for new readers and dedicated fans, these tales will transport you to lands both familiar and strange—to a fully realized world of dangerous magic that millions have visited through the novels of the Grishaverse.
This collection of six stories includes three brand-new tales, all of them lavishly illustrated with art that changes with each turn of the page, culminating in six stunning full-spread illustrations as rich in detail as the stories themselves.
A book on your TBR strictly because of its beautiful cover.
Enchantment of Ravens by Margert Rogerson. It speaks for itself. 
A book on your TBR that you never plan on actually reading.
Every book on my TBR I plan to read (at sometime or another)
An unpublished book on your TBR that you're excited for
Sweet Little Memories by Abbi Glines.
I need to know how this series ends!
---
Book #3 in the Sweet Little Series. Trusting again and facing the lies that had surrounded her entire life, Beulah is ready to move on. Love and enjoy the man she's found happiness with. When the past comes back yet again with one last skeleton in the closet.
A book on your TBR that basically everyone has read except you.
Three Dark Crown by Kendare Blake
---
When kingdom come, there will be one.
In every generation on the island of Fennbirn, a set of triplets is born—three queens, all equal heirs to the crown and each possessor of a coveted magic. Mirabella is a fierce elemental, able to spark hungry flames or vicious storms at the snap of her fingers. Katharine is a poisoner, one who can ingest the deadliest poisons without so much as a stomachache. Arsinoe, a naturalist, is said to have the ability to bloom the reddest rose and control the fiercest of lions.
But becoming the Queen Crowned isn't solely a matter of royal birth. Each sister has to fight for it. And it's not just a game of win or lose…it's life or death. The night the sisters turn sixteen, the battle begins.
The last queen standing gets the crown.
A book on your TBR that everyone recommends to you.
Warcross  by Marie Wu
I've seen soooo many people rave about this!
---
For the millions who log in every day, Warcross isn't just a game—it's a way of life. The
obsession started ten years ago and its fan base now spans the globe, some eager to escape from reality and others hoping to make a profit. Struggling to make ends meet, teenage hacker Emika Chen works as a bounty hunter, tracking down players who bet on the game illegally. But the bounty hunting world is a competitive one, and survival has not been easy. Needing to make some quick cash, Emika takes a risk and hacks into the opening game of the international Warcross Championships—only to accidentally glitch herself into the action and become an overnight sensation.
Convinced she's going to be arrested, Emika is shocked when instead she gets a call from the game's creator, the elusive young billionaire Hideo Tanaka, with an irresistible offer. He needs a spy on the inside of this year's tournament in order to uncover a security problem . . . and he wants Emika for the job. With no time to lose, Emika's whisked off to Tokyo and thrust into a world of fame and fortune that she's only dreamed of. But soon her investigation uncovers a sinister plot, with major consequences for the entire Warcross empire.
A book on your TBR that you're just dying to read.
Black Bird of the Gallows by Meg Kassal
---
A simple but forgotten truth: Where harbingers of death appear, the morgues will soon be
full.
Angie Dovage can tell there's more to Reece Fernandez than just the tall, brooding athlete who has her classmates swooning, but she can't imagine his presence signals a tragedy that will devastate her small town. When something supernatural tries to attack her, Angie is thrown into a battle between good and evil she never saw coming. Right in the center of it is Reece—and he's not human.
What's more, she knows something most don't. That the secrets her town holds could kill them all. But that's only half as dangerous as falling in love with a harbinger of death.
The number of books on your Goodreads TBR shelf.
At the moment I have 347 books on that list.
I'm not going to tag anyone, but I can't wait to read some of your answers if you do it!