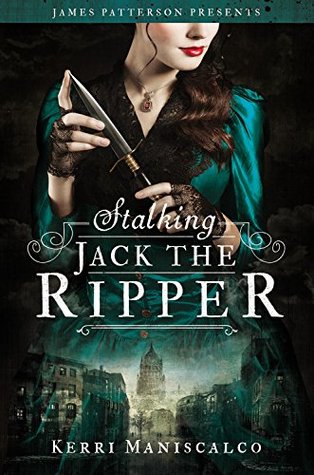 Stalking Jack the Ripper
Series: Stalking Jack the Ripper
by Kerri Maniscalco
My Rating: ⭐⭐⭐⭐
Check it Out: Goodreads | Amazon
Seventeen-year-old Audrey Rose Wadsworth was born a lord's daughter, with a life of wealth and privilege stretched out before her. But between the social teas and silk dress fittings, she leads a forbidden secret life.
Against her stern father's wishes and society's expectations, Audrey often slips away to her uncle's laboratory to study the gruesome practice of forensic medicine. When her work on a string of savagely killed corpses drags Audrey into the investigation of a serial murderer, her search for answers brings her close to her own sheltered world.
It took me a while to finish this book, I think it's because I usually steer away from historical fiction. Why have I done that for so long?  I honestly think it took me a while because it was something that I wasn't used to reading. I've been trying to get out of my comfort zone with books that I read and this was recommended to me. Well, I finally did it!
I adored our main character, Audrey Rose! She was witty, sarcastic, and brilliant!
"I didn't see any men running about, birthing the world's population then going on to make supper and tend to the house. Most of them buckled to their knees when the slightest sniffle attacked them"
She refused to conform to what society wanted her to be. She was engrossed and fascinated by forensic science and a woman back in that time had no place in that kind of setting. Audrey Rose said why can't I?
"Where in a medical dictionary does it say a woman cannot handle such things? What is a man's soul made of that a woman's is not?" I teased. "I had no idea my innards were composed of cotton and kittens, while yours were filled with steel and steam-driven parts."
I loved reading about her journey trying to find out who was murdering all these women. Her interactions with Thomas were funny I loved every minute of it.
I read a lot of reviews that when the killer was revealed it was obvious. Well, I didn't see it coming at all! This book kept me on my toes and I actually enjoyed it.
I've been told that Stalking Prince Dracula is pretty good and it's next on the list!
---
Instagram | Twitter | Goodreads