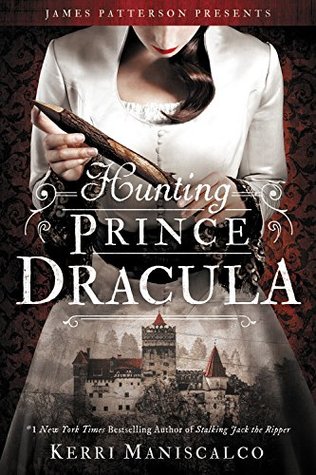 Hunting Prince Dracula
Series: Stalking Jack the Ripper
by Kerri Maniscalco
My Rating: ⭐⭐⭐⭐⭐
Check it Out: Goodreads | Amazon
Following the grief and horror of her discovery of Jack the Ripper's true identity, Audrey Rose Wadsworth has no choice but to flee London and its memories. Together with the arrogant yet charming Thomas Cresswell, she journeys to the dark heart of Romania, home to one of Europe's best schools of forensic medicine…and to another notorious killer, Vlad the Impaler, whose thirst for blood became legend.
But her life's dream is soon tainted by blood-soaked discoveries in the halls of the school's forbidding castle, and Audrey Rose is compelled to investigate the strangely familiar murders. What she finds brings all her terrifying fears to life once again.
»Stalking Jack the Ripper ★★★★
"Humans were the true monsters and villains. More real than any novel or fantasy could invent."
Ya'll! My heart is so full right now! When I went into this I had no idea that I would come out wowed and giving it 5 stars. I've heard nothing but great things about so all I can do is kick myself and wonder why did it take me so long to read it after Stalking Jack the Ripper.
I do not read historical fiction or horror, but this series has seriously become a favorite of mine. It all has to do with these two, Audrey Rose Wadsworth and Thomas Cresswell.
(Wonderful art by PhantomRin)
I have never shipped a couple so damn hard in my life. Seriously! If it doesn't make your heart happy whenever they are together on a page, then you are lying to yourself!
There was so much banter between them that I wanted to quote the whole book in my review but I refrained. I will put some quotes down below just so you can get a feel for what I'm talking about.
"You know, I much preferred you when you weren't speaking." "Ah"—Thomas sat back, inhaling deeply—"either way, you prefer me."

"With Audrey Rose, I like thinking of myself more along the lines of 'handsome life companion.'"

"If you were guilty and wanted to hide, where might you go first?" "Depends on what I'm guilty of. Dirty thoughts or wanton follies, I'd send myself straight to your quarters to be punished."
See what I mean?! I never wanted them to stop! The chemistry between these two was OFF THE CHARTS! okay now, moving along to them on their own.
Audrey Rose.
She is one of my favorite protagonist of all time. She is smart, driven, and is a joy to read about. She still is that sassy girl that I fell in love with in Stalking Jack the Ripper. She was still finding her bearings and trying to heal after everything that happened in the previous book. Her strength was amazing. She never gave up and headed back to London even though everyone was telling her that it would be for the best.
Thomas Creswell.
He was perfection! End of story! I am in love and I swooned a thousand times while reading.  (Try to tell me I can't be in love with a fictional character and I will throat punch you!) We get to see so many different sides of him in this book.
The plot here was amazing and it kept me on the edge of my seat. Thank goodness I take anxiety meds because ya girl needed it. As usual Kerri Maniscalco's writing was amazing and completely took me to Romania.
I've read reviews where they say it was easy to figure out who the killer was. WELL not for me! I was surprised and knocked on my ass when it was revealed.
If you can't tell that I loved this book, then I didn't do something right. Maybe more exclamation marks? If you haven't read it, pick this up!  Can it hurry up and be September already?! 
---