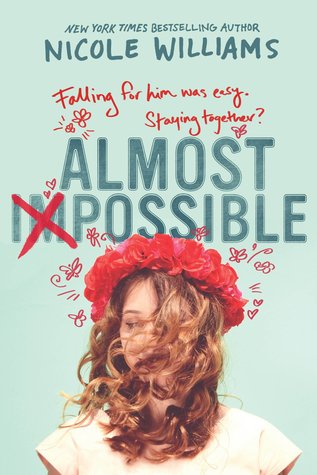 Almost Impossible
Nicole Williams
My Rating: 💜💜💜
When Jade decided to spend the summer with her aunt in California, she thought she knew what she was getting into. But nothing could have prepared her for Quentin. Jade hasn't been in suburbia long and even she knows her annoying (and annoyingly cute) next-door neighbor spells T-R-O-U-B-L-E.
And when Quentin learns Jade plans to spend her first American summer hiding out reading books, he refuses to be ignored. Sneaking out, staying up, and even a midnight swim, Quentin is determined to give Jade days–and nights–worth remembering.
But despite their storybook-perfect romance, every time Jade moves closer, Quentin pulls away. And when rumors of a jilted ex-girlfriend come to light, Jade knows Quentin is hiding a secret–and she's determined to find out what it is.
ARC provided by Crown Books for an honest review.
This one was hard for me to rate. I had to take a break after reading before I wrote my review to get my thoughts together.
This book hit on some good topics that should be discussed in YA. I won't go into what those topics actually were because it would be a spoiler. I did call how most things would play out but it didn't take away from me enjoying it.
I enjoyed this one a bit more than I thought would. The romance between Quentin and Jade was done really well. I loved how Quentin wasn't afraid to really pursue Jade and actually put his feelings out there. It was quite refreshing since you don't get this all the time in YA.
The reason I couldn't make my review higher was because I feel like this book really needed an epilogue or at least another chapter. It ended quite abruptly. I really needed to see further more into how this ended.  It would have made a world of a difference.
Despite my issues, I do recommend this book! It was sweet and would be a great summer read to have.
---
Follow Books and Blends on: