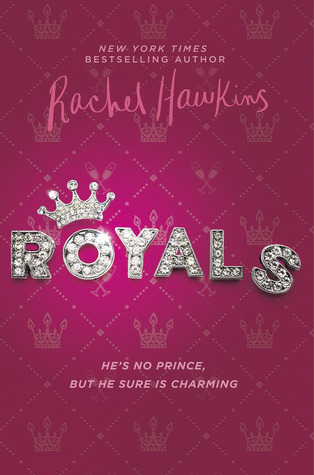 Royals
by Rachel Hawkins
My Rating: ⭐⭐⭐⭐
Meet Daisy Winters. She's an offbeat sixteen-year-old Floridian with mermaid-red hair; a part time job at a bootleg Walmart, and a perfect older sister who's nearly engaged to the Crown Prince of Scotland. Daisy has no desire to live in the spotlight, but relentless tabloid attention forces her to join Ellie at the relative seclusion of the castle across the pond. While the dashing young Miles has been appointed to teach Daisy the ropes of being regal, the prince's roguish younger brother kicks up scandal wherever he goes and tries his best to take Daisy along for the ride. The crown–and the intriguing Miles–might be trying to make Daisy into a lady . . . but Daisy may just rewrite the royal rulebook to suit herself.
New York Times bestselling author Rachel Hawkins brings her signature humor, love of Americana, and flair for romance to this page-turning Princess Diaries turned-upside-down story.
ARC provided by Penguin Teen in exchange for an honest review.
I loved this one! I haven't read a cute YA romance in a while and this was adorable. I blew through this book so quickly. It had me laughing almost the whole time I read it.
With her sister marrying into a royal family in Scotland, Daisy is hoping that it doesn't interfere with her life in Florida. When a Scandal happens, she is sent to Scotland for the summer where the royal family can keep an eye on her.
Daisy was an awesome main character! She was hilarious and wasn't afraid to be herself. I couldn't wait to see what shenanigans she would get herself into. She was easy to like and really relatable!
There were times when I wanted to shake her sister Eleanor, but I can understand where she's coming from. As someone who was coming into the royal world from another country, she was trying to find her place and please everyone. I just wish she wasn't so hard on Daisy all those times.
The romance was done so well! It wasn't forced or over the top. The author did a good job at making it seems as natural as possible and that was refreshing to read about in YA.
The only reason I didn't give it 5 stars was because of the ending. It was great and left me wanting more which is a good thing. It just seemed like it was a little unresolved. My fingers are crossed that book two is still about Daisy.
I enjoyed this book so much and I can't wait to read the next book in this series.
---