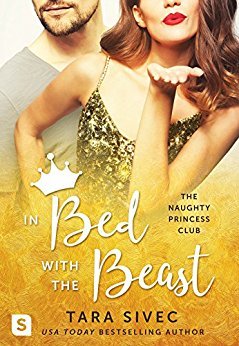 In Bed with the Beast
Tara Sivec
My Rating: ⭐⭐⭐
A tale as old as time: she needs a place to stay, he's a grump with a secret and an extra room…can love find a way?
Meet the Naughty Princess Club, a series from USA Today bestselling author Tara Sivec that brings readers to Fairytale Lane and the hilarity—and romance—that three women fall into once they decide to strut their stuff and bring on their own happily ever after.
Living in her overprotective dad's basement, shy Belle lives her life through books. Being a part of the Naughty Princess Club is the first adventure she's ever had, plus she desperately needs the money to save one of her favorite places – the local library.
But when her new friends and new business gets her kicked out of her dad's house, Belle is rescued by the surly Vincent "Beast" Adams who invites her to be his house guest until she gets back on her feet. Despite his attitude problem and long list of rules, Belle finds herself warming to the muscled man with a penchant for growling and starts seeing a gentle side to him that wasn't there before.
Yet there's a room that Beast keeps locked and Belle keeps getting hints that Beast is hiding something…can a nerdy librarian tame the beast or will their romance be over before it has a chance to blossom?
I really didn't know what to expect with one. I also didn't know this was apart of a series when I requested it on NetGalley. It sounded like it was going to be a cute retelling of Beauty and the Beast (which is one of my favorite Disney movies). While it was cute, nobody prepared me for Disney princesses as strippers! 
"Um, I know him. Kind of. What is he doing here? I whisper to Mrs. Potter as we both continue staring at Beast.
"I believe what he's doing is called reading. I've heard it's all the rage in this building we call a library," she whispers back.  
I enjoyed the relationship between Belle and Vincent. They both caused each other to grow and to want more in life. Belle ended up standing up for herself and getting some confidence. Vincent learned to open up because he was very closed off. As much as he didn't want to be labeled a hero, he sure was dreamy like one. 
I'm nobody's hero, princess. And this isn't a fairytale."
While it's not going to be a favorite of mine, it was hilarious and was a good book to kick back with. If you can get past the stripper part, I would give this a read! 
I received an ARC via NetGalley for an honest review. Quotes were taken from an ARC and are subject to change upon publication.
---