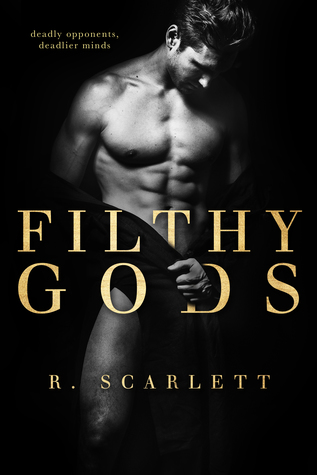 Filthy Gods
American Gods 0.5
R. Scarlett
My Rating: ⭐⭐⭐⭐⭐
Prelude in the American Gods series.
Young. Wealthy. Elite. Attractive. The gentlemen's secret society at Yale was filled with them.
And Nathaniel Radcliffe, the bane of my existence, was one of them.
As the right hand of the American Gods, he was conceited and arrogant. A dangerously handsome man in a tailored custom suit and shiny black oxford loafers.
The classroom was our battlefield. We made a sport out of arguing and debating, ready to do anything in order to win over the other.
Deadly opponents, deadlier minds.
I'd sworn I'd never give him the upper hand, until…
The secret I've been hiding for the last three years?
He just discovered it… and now he has all the power.
Okay so R. Scarlett is a new to me author, but she won't be anymore! This was awesome, especially since it was a novella! Filthy Gods is the prequel to a new series, American Gods. All I can say is that if the novella was this good, I can't wait for the rest of the series!
Juliette and Nathaniel have been enemies for about 3 years now in their law classes at Yale. Juliette worked hard for every single achievement she has. Nothing has been handed to her. She wants to be the best in her class but it's only one other student that standing in her way. Nathaniel Radcliffe. He was born with a silver spoon in his mouth and like most people who attend their classes, he came from money. Once he finds out a secret about Juliette, she has no idea what kind of hoop he will make her jump through.
The cover alone should have let me know this book was going to be sexy AF, but hot damn! I needed a cold shower after this one! The scenes between Juliette and Nathaniel were so damn sexy you guys. It was the perfect enemies to lovers that I have read in a long time!
I loved Juliette's drive to not let her past define her future. This girl was feisty and I loved her. Nathaniel was everything I look forward to in a love interest. Also, he had the filthiest mouth and I was here for it! He could have me do anything he wanted if he talked to me like that.
This book was a quick and sexy read that I couldn't stop reading until my kindle said 100%. I cannot recommend this enough! The next story is about Gabe and I cannot wait to get my hands on it!
I received an ARC for an honest review.
---