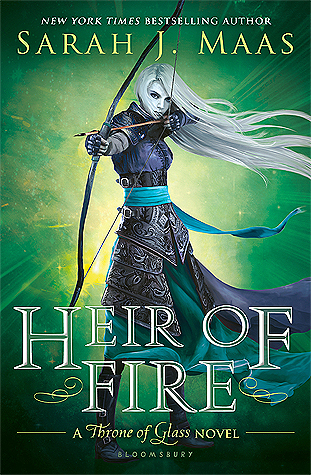 Heir of Fire
Throne of Glass #3
by Sarah J Maas
My Rating:⭐⭐⭐⭐
Celaena has survived deadly contests and shattering heartbreak―but at an unspeakable cost. Now, she must travel to a new land to confront her darkest truth . . . a truth about her heritage that could change her life―and her future―forever. Meanwhile, brutal and monstrous forces are gathering on the horizon, intent on enslaving her world. Will Celaena find the strength to not only fight her inner demons, but to take on the evil that is about to be unleashed?
This review will contain spoilers for the previous books and this particular book.
Ratings of Previous Books:
Throne of Glass⭐⭐⭐
Crown of Midnight⭐⭐⭐⭐
She was the heir of ash and fire, and she would bow to no one.
What took me so long to read this after Crown of Midnight?! I was engaged from beginning to end! While I had this one my bookshelf, I picked up the audiobook from the library. I'm so glad I did! Elizabeth Evan's narration was perfect and made the story! This review is going to be more character based and I hope that's okay. 
My poor Celaena. She had to fix herself, find out how to move on after everything that happened in Crown of Midnight. She wanted to give up and she didn't find herself worthy of anything good. She set out to keep her promise to Nehemia. Celaena's love for Nehemia was gutting me. She missed her and blamed herself for her death, but she also was mad at her. Mad at her for using herself as a sacrifice to put Celaena in motion. 
I know a lot of people either liked Rowan or they didn't. At first, I couldn't stand his ass, but after continuing to read more about him he grew on me. Now I'm not going to say that he's forgiven for all the crap he did to Calaena in the beginning but I can understand his nature a bit now. I liked how their relationship was formed as a  friendship right now rather than a romantic relationship. (I know, who am I?) The romance wasn't what they needed right now. They both needed someone who understood them.
"You collect scars because you want proof that you are paying for whatever sins you've committed. And I know this because I've been doing the same damn thing for two hundred years."
Don't get me wrong now, they better end up together! Because not only do they belong together but I need this to happen. This would be one hell of a power couple and I know that they would great together. 
I found this image on Google and I loved it so much! The artist is Gabi and I will link her Tumblr and Society 6.
Tumblr: Tumblr
Society 6: Society6
Moving on to some of the other characters, I expected a bit more from Dorian's story. Especially about his magic! I felt like his story was mainly about a love story with Sorscha and I didn't care for her at all. Thank goodness she's outta there!
Did anyone else get vibes from Aedion when he was talking about Celaena? Like "I'm in love with her" vibes? That would be weird because these two are cousins that grew up together. They kept saying that their bloodline was far away enough that they could marry, but no. I couldn't really get attached to his character because of that reason alone. 
Also, can somebody tell me if Chaol's storyline gets any better? I'm already not his biggest fan and all of his back and forth was tiring! He needed to get over himself and be there for the people he claimed to care for. Dorian needed a friend and Chaol wasn't there for him. He saw him and Celaena differently for something that they couldn't change about themselves. Get off your high horse captain! 
I was a little hesitant when we first introduced to Manon, but holy shit! This girl is so bad ass! She was cunning and more complex than the characters. I didn't care for all the witch war games and stuff but, I loved her take no shit attitude and her strength! The bond between her and Abraxos was amazing to read about. These two were the best team of this book! I cannot wait to read more about her in the next books.
All in all, I really enjoyed this one and can't wait to jump into Queen of Shadows and see what's going to happen next. The last 100 pages made me feel like I couldn't get to the end fast enough. Also, I still hate the king of Adarlan! 
---