I saw this tag on Priyasha's blog and wanted to do it as well! So without further ado, lets just into the tag! 
1. Best Book You've Read So Far in 2018:
This shouldn't need any explanation. I loved it, everyone should read it! 
2. BEST SEQUEL OF 2018 SO FAR?
Thomas Creswell and Audrey Rose are my number one OTP!
3. NEW RELEASE YOU HAVEN'T READ YET, BUT WANT TO?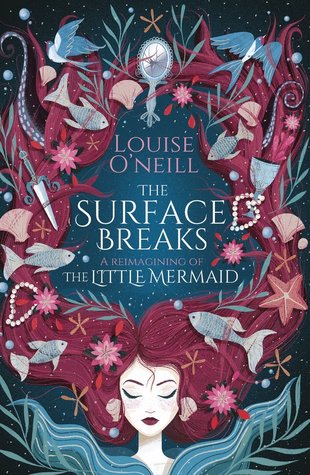 Not only is the cover for this one gorgeous, but a book about mermaids? Sold! 
4. MOST ANTICIPATED RELEASE OF THE SECOND HALF OF 2018?
Muse of Nightmares and Wildcard. These are already pre-ordered! 
 5. BIGGEST DISAPPOINTMENT?
Going to have to go with My Plain Jane. I'm still torn up about it. My review will be up later next week!
6. BIGGEST SURPRISE?
I knew I wanted to read it, but I never thought I would have enjoyed it as much as I did! 
7. FAVORITE NEW AUTHOR (DEBUT OR NEW TO YOU)?
See answer #1.
8. NEWEST FICTIONAL CRUSH?
Definitely Lazlo Strange from Strange the Dreamer! 
9. NEWEST FAVORITE CHARACTER?
Thomas Creswell of course! 
10. BOOK THAT MADE YOU CRY?
See answer #1. 
11. BOOK THAT MADE YOU HAPPY?
The characters and the humor will always put a smile on my face! 
12. FAVORITE BOOK TO MOVIE ADAPTATION YOU'VE SEEN THIS YEAR?
I enjoyed the movie SO MUCH BETTER than I enjoyed the book. Plus Nick Robinson is so darn cute! 
13. FAVORITE REVIEW YOU'VE WRITTEN THIS YEAR?
Definitely my review for Hunting Prince Dracula. You can check it out HERE
14. MOST BEAUTIFUL BOOK YOU BOUGHT OR RECEIVED SO FAR THIS YEAR?
All books are beautiful okay. #AllBooksMatter lol
15. Books You Need to Read By the End of the Year. 
The rest of the Throne of Glass series!
---
I haven't done a tag in a while and it was pretty fun. I nominate anybody who wants to do this one!