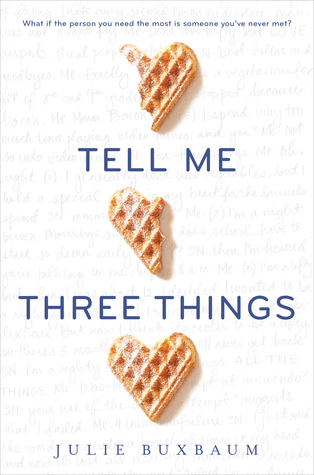 Tell Me Three Things
by Julie Buxbaum
My Rating: 💙💙💙💙
Check it Out: Goodreads | Amazon | B&N
Everything about Jessie is wrong. At least, that's what it feels like during her first week of junior year at her new ultra-intimidating prep school in Los Angeles. Just when she's thinking about hightailing it back to Chicago, she gets an email from a person calling themselves Somebody/Nobody (SN for short), offering to help her navigate the wilds of Wood Valley High School. Is it an elaborate hoax? Or can she rely on SN for some much-needed help?
It's been barely two years since her mother's death, and because her father eloped with a woman he met online, Jessie has been forced to move across the country to live with her stepmonster and her pretentious teenage son.
In a leap of faith—or an act of complete desperation—Jessie begins to rely on SN, and SN quickly becomes her lifeline and closest ally. Jessie can't help wanting to meet SN in person. But are some mysteries better left unsolved?
"you make me want to know what goes on in that head of yours. I'll be honest: I'm not usually interested in the contents of others people's heads. My own is work enough." 
I have been a YA contemporary kick for summer and I'm so glad that I read this one.
The feelings in this book were just so human that I ended up getting so wound up in this story. Maybe it was my hormones, but I was really going through my feelings here. It really brought me back to being a high schooler.
High school is a hell of a place and teenagers are cruel. While I never had been bullied like Jessie, I can fully relate. Going through the loss of her mother, moving and getting a stepmom, and starting a new school is quite a lot and I think she handled it well.
We also have a love interest here. I'm a sucker of romance that starts off by written conversations first. I feel like it gives the relationship a deeper connection since you don't see the other person first. I won't spoil it about who the person was, but just know that it was cute and I'm glad it was who it was.
I think the most hard hitting was reading about Jessie go through the motions of grief over losing her mother.
"But I still haven't found the words to talk about my mom. The real her. To remember who she was in a way that doesn't make me kneel over.
I don't know how to do that yet."
At the end of the book, the author tells you that this a personal subject for her because she herself lost her mother at a young age. It feels like she put that into her writing and it was beautiful to read.
Overall, this affected me in ways that I didn't it expect it to and it's a great summer read.
---
Follow Books and Blends on:
Instagram | Twitter | Goodreads