Hey friends!  I'm back with some more DNF reviews. I know, I know. It's a reader's worst nightmare.
But 2018 is the year that I won't be pushing myself to read books that I'm not enjoying. So I thought I would share some books that just didn't match well with me. Let's get into it!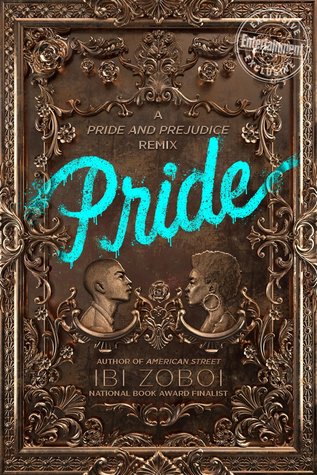 Zuri Benitez has pride. Brooklyn pride, family pride, and pride in her Afro-Latino roots. But pride might not be enough to save her rapidly gentrifying neighborhood from becoming unrecognizable.
When the wealthy Darcy family moves in across the street, Zuri wants nothing to do with their two teenage sons, even as her older sister, Janae, starts to fall for the charming Ainsley. She especially can't stand the judgmental and arrogant Darius. Yet as Zuri and Darius are forced to find common ground, their initial dislike shifts into an unexpected understanding.
But with four wild sisters pulling her in different directions, cute boy Warren vying for her attention, and college applications hovering on the horizon, Zuri fights to find her place in Bushwick's changing landscape, or lose it all.
DNF at 22%
I think I'm being over critical here. But honestly, I really wished Zuri would have just gotten off her high horse. She never gave the Darcy's a chance and to be honest it's all because they don't look or act like boys where she's from.
Which brings me to my main reason why I had to stop reading. I get it, she lived in the hood. Did that have to be repeated so many times throughout the book? Every other page was about something "in the hood". So she lives in a lesser area. Nobody talks like that in the hood. Hell, there really wasn't a need to keep bringing it up or using it as a reason to not like someone.
I feel as if the author was trying too hard to get that point across and I ended up feeling like I was getting beat over the head with it. Maybe I'll come back to it at a later time, but I'm going to put this one on the backburner for now.
Keep your friends close and your enemies closer… 
I've hated Rachel Dawson since I was seven years old. My next door neighbor and number one sworn enemy, she's the reason why almost all of our childhood fights ended with me setting something of hers on fire. (Or, vice versa.)
She snitched on me when I broke curfew.
I snitched on her when she lied about having a boyfriend.
We went back and forth like this throughout high school, both vowing to never talk to each other again when we went off to college.
But that was until she showed up at my apartment during my senior year and asked me for a temporary place to stay. Until I realized just how much between us had changed, and the line I thought we'd never cross became harder and harder to ignore…
I couldn't finish it ya'll and I'm hella disappointed. I couldn't even give it 50 pages. I'm a fan of her work, but this one just a nope. I didn't like Rachel or Ethan. We have some events that are truly unrealistic, some cheating, and I really don't understand the letters. why keep writing letters to someone you didn't truly like?!
Three girls with three deadly secrets. Only one can wear the crown.
The king is dying, his heir has just been murdered, and rebellion brews in the east. But the kingdom of Kolonya and the outer Reaches has one last option before it descends into leaderless chaos.
Or rather, three unexpected options.
Zofi has spent her entire life trekking through the outer Reaches with her band of Travelers. She would do anything to protect the band, her family. But no one can ever find out how far she's already gone.
Akeylah was raised in the Eastern Reach, surrounded by whispers of rebellion and abused by her father. Desperate to escape, she makes a decision that threatens the whole kingdom.
Ren grew up in Kolonya, serving as a lady's maid and scheming her way out of the servants' chambers. But one such plot could get her hung for treason if anyone ever discovers what she's done.
When the king summons the girls, they arrive expecting arrest or even execution. Instead they learn the truth: they are his illegitimate daughters, and one must become his new heir. But someone in Kolonya knows their secrets, and that someone will stop at nothing to keep the sisters from their destiny… to rule.
I really wanted to enjoy this one. I could never fully get into it. 
It's 100% percent my fault. It was said as being for fans of Three Dark Crowns and I also pulled a DNF on that one as well. I gave it 100 pages and just couldn't connect to either character and the love interests were so underwhelming.
---
So there are some books that I have recently DNF'd. Do we have in common?
What are some books that you recently DNF'd?
Thanks for reading!❤