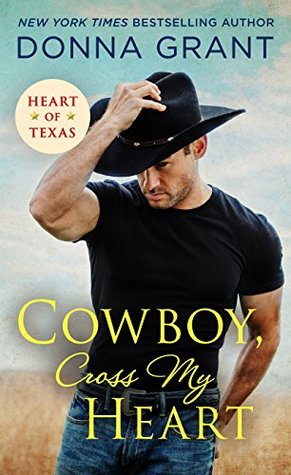 Cowboy, Cross My Heart
Heart of Texas #2
by Donna Grant
Expected Publication: August 28, 2018
My Rating: 💙💙💙
Naomi Pierce isn't the type to let a cowboy sweep her off feet. It's not her first rodeo, after all. But when she returns to her Texas hometown, she can't help but be swept up again in the rough-and-tumble world of hard-riding, bronco-busting good-ol'-boys she loved as a girl. She might be here to photograph her Rodeo Queen best friend. But it's one fine-looking cowboy who really captures her eye…
Brice Harper is all man, all muscle, and all heart. From the moment he rides into the stadium, he can't help but notice the beautiful stranger with a camera watching him from the stands. It doesn't take a zoom lens to see the sparks of instant attraction. But things really heat up when he meets Naomi up-close—and he discovers that someone is stalking her friend. Brice wouldn't be any kind of cowboy if he didn't offer to help the ladies out. But can the rough rider keep this spirited shutterbug out of danger—without risking his heart?
This was my first Donna Grant book but I saw it was about cowboys so I was sold. I didn't know that that this was series but it was okay because it read like a standalone.
I liked Bryce and Naomi together. They were both at a place in their lives where they were open to love again and when they met it felt like they found their other half. 
"With Naomi, everything fit easily, as if it were meant to be." 
This was a cowboy romance with a bit of suspense thrown in. I liked it but I didn't love it. I think it had to do with different POVs that we get here. It was so hard to keep up with the story at times because it kept switching from person to person. 
The story was majority focused on the mystery of who was stalking Whitney so the romance wasn't as big of a part of the story as I would like. 
Now I was a fan of the friendships here. Naomi went through so much for Whitney. To keep her safe and find out who ruined her life. There was never a time that she but her friendship on the back burner to get with Bryce. Also, Bryce's family made me smile. Especially Abby! They were so welcoming and willing to help.
So while it wasn't a favorite of mine, it was a good story. I'm excited to see who the next story will be about. Hopefully, it will be Caleb! 
**Quote was taken from an ARC and is subject to change upon publication.
---