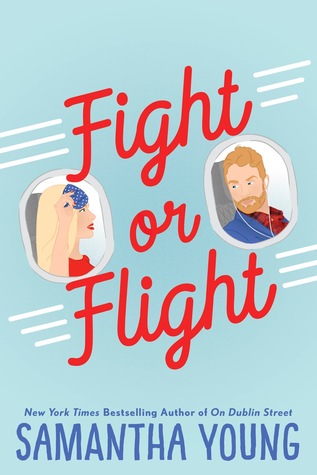 Fight or Flight
by Samantha Young
Expected Publication: October 9, 2018
My Rating: ⭐⭐⭐⭐
The universe is conspiring against Ava Breevort. As if flying back to Phoenix to bury a childhood friend wasn't hell enough, a cloud of volcanic ash traveling from overseas delayed her flight back home to Boston. Her last ditch attempt to salvage the trip was thwarted by an arrogant Scotsman, Caleb Scott, who steals a first class seat out from under her. Then over the course of their journey home, their antagonism somehow lands them in bed for the steamiest layover Ava's ever had. And that's all it was–until Caleb shows up on her doorstep.
When pure chance pulls Ava back into Caleb's orbit, he proposes they enjoy their physical connection while he's stranded in Boston. Ava agrees, knowing her heart's in no danger since a) she barely likes Caleb and b) his existence in her life is temporary. Not long thereafter Ava realizes she's made a terrible error because as it turns out Caleb Scott isn't quite so unlikeable after all. When his stay in Boston becomes permanent, Ava must decide whether to fight her feelings for him or give into them. But even if she does decide to risk her heart on Caleb, there is no guarantee her stubborn Scot will want to risk his heart on her….
I had low intentions going into this book. The only other book I've read by this author was On Dublin Street and I really didn't enjoy it. However, this one, I actually liked.
We meet Elise coming from a funeral in her hometown trying to get home to Chicago. While trying to get her flight upgraded she runs into very rude and arrogant scot, Caleb. These two have crazy chemistry but they can't stand each other. They have a one night stand thinking that they wouldn't see each other again. WRONG! 
I hope you're sitting down because I'm going shock you. The romance wasn't my favorite part of this book. Honestly, it was my least favorite part.
I adored Ava! She was a pleasure to read about, she was feisty and strong. I loved reading about her overcoming her past and letting her hair down. She was loyal and wouldn't let anyone disrespect her.

"So was I a bitch? Or was I fully in my right to feel defensive and wronged when men treated me like prey?" 
My other favorite part was the friendship between Ava and Harper. They had a friendship that could stand the test of time. I loved the friendship between then these two! You don't get a friendship like theirs too often in a book.
Now I'm not going to say that I didn't like Caleb, but he will never make my book boyfriend list. Some of his actions towards Ava I can't believe or forgive. I don't mind a character pushing someone away because they are scared, but the way he did could have been so much better. I feel like the author was trying too much to make him come off as a bad boy. He came off arrogant and I wanted to slap him something fierce. 
This could have easily been a five star read for me if the romance was done differently. I'm hoping that maybe she does a book about Jaime. I'd be willing to read more about him! 
**ARC provided via NetGalley for an honest review. The quote was taken from an ARC is subject to change upon publication. 
---