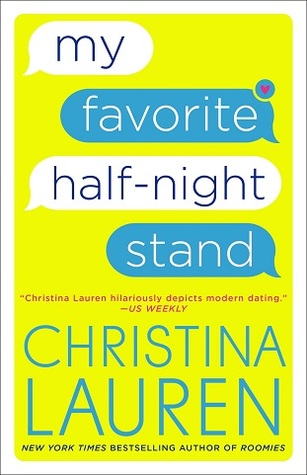 My Favorite Half-Night Stand
by Christina Lauren
Expected Publication Date: December 4, 2018
My Rating: 🌟🌟
From the New York Times bestselling author comes a sexy romantic comedy about online dating, and its many, many fails.
With a world-famous speaker at their university, Millie Morris and her four woefully single male colleagues make a pact that they'll all find dates. Unfortunately, Millie has more success helping them make matches online than she does navigating the onslaught of lewd pics in her own feed. But when she creates a fictional name for a new account, Millie finds herself vying for the online attention of a man she sees every day in the flesh.
I really didn't enjoy this one as much as I thought I would. Especially since I loved and 5 starred Josh and Hazel's Guide to Not Dating. Mainly it had to do with how the story progressed.
We have Millie and Reid who are our main characters. They have been friends for a few years and they also have a close group of friends who do everything together. Honestly, my main love of this book was the friendship between the group.
Moving on to Millie and Reid. I have to say that I really didn't feel a drop of chemistry between these two. I believe they cared for each other and as friends, but not romantically. Even when they had sex for the first time, I just didn't feel it. The whole catfishing aspect was just not a good plot for me. Millie would honestly get mad at Reid for sleeping with her and messaging other women. She had so many opportunities to tell him it was her.
Digging a little deeper here, I never really understood Millie to be honest. These guys loved her and considered her part of their group. Why in the hell did she never tell people anything about her? She really thought she could love Reid and have a relationship with him even though she never opened up.
Now I'm not saying that this was a terrible read. I did give it three stars. It was funny and I loved the friendship between the group. It just didn't win me over. If you love Christina Lauren books then I'm sure you will most likely love this one as well. So just take my review with a grain of salt. I'm probably just being over critical.
---
Instagram | Twitter | Goodreads