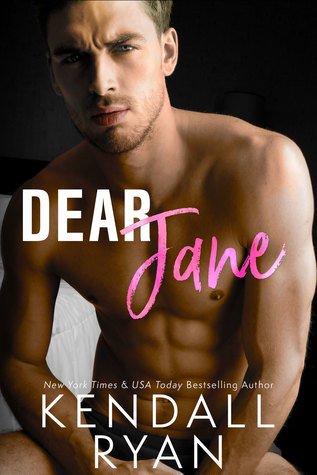 Dear Jane
by Kendall Ryan
My Rating: ⭐⭐
Check it Out: Amazon | iBooks | B&N
I broke her heart ten years ago and left town.
She hates me, and rightly so. It doesn't matter that the rest of the country loves me, that I'm a starting quarterback with a multimillion-dollar contract. Because when I look in the mirror, all I see is a failure who was too young—and too afraid—to fight for what I wanted.
But I'm not that guy anymore, and all I need is one shot to convince her.
***
He has no idea what happened after he left. And now I'm supposed to work alongside him like we don't have this huge, messy history?
But I'm older now, wiser, and I won't let anything stand in my way of doing a good job for this league. Not even one overpaid, arrogant player who thinks we're going to kiss and make up.
News flash, buddy: I am over you.
ARC provided for an honest review.
Dear Jane is a second chance romance between Jane and Wes. They were high school sweethearts until Wes went to college and communication and priorities tore them apart. It's been 10 years and Jane still has a chip on her shoulder (for good reason) when it came to Weston chase. 
As much as I wanted to love it, it just fell flat for me. I really wanted more, expected more, and just craved more while reading. I thought Jane would make him grovel just a bit more. She really gave in so easily. She held to 10 years of anger towards him and literally let it go in about a weeks' time. Hell, from the blurb I thought that he was really going to fight for her. Sadly, he never really had to. 
Overall, it was okay, but definitely not Kendall's best. 
On another note, we get a peek at Finding Alexi which is about Jane's best guy friend Alex. Now that is a book I'm expecting to blow me away! Just from those chapters, I know I'm going to love it.
---

A New York Times, Wall Street Journal, and USA Today bestselling author of more than two dozen titles, Kendall Ryan has sold over 1.5 million books and her books have been translated into several languages in countries around the world. She's a traditionally published author with Simon & Schuster and Harper Collins UK, as well as an independently published author. Since she first began self-publishing in 2012, she's appeared at #1 on Barnes & Noble and iBooks charts around the world. Her books have also appeared on the New York Times and USA Today bestseller lists more than three dozen times. Ryan has been featured in such publications as USA Today, Newsweek, and InTouch Magazine.
Facebook | Twitter | Pinterest | Goodreads | Amazon Author Page