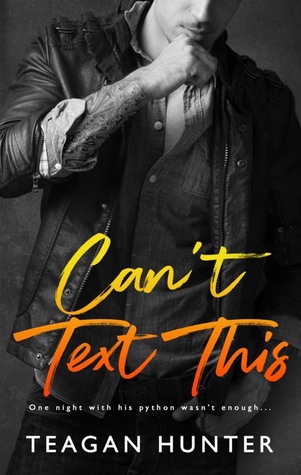 Can't Text This
by Teagan Hunter
My Rating: ⭐⭐⭐⭐
Check it Out: Amazon (KU)
"Hi Monty. Wanna see my python?"
That's how I ended up in the bathroom of some dive bar with a stranger.
Me, Monty Andrews, the quintessential virgin girl next door.
I was so out of my element, but there was no denying our explosive attraction, even via text.
Commence Operation Bang Each Other Out of Our Systems, because that was all it was—unfinished business.
I had no intention of falling back into the sheets with the tattooed, muscly, dirty-in-the-best-kind-of-way single dad over and over again…but I did.
Everything was going great—until we discovered I was his son's teacher.
This book does feature characters from Let's Get Textual & I Wanna Text You Up but can be read as a standalone, as the book does not follow the same timeline.
So this was my second book by Teagan Hunter and it was just as hilarious as I expected it to be! It was also so great to see the characters from the other two books as well! 
Monty and Robbie had chemistry from the very first page that we meet them. This was an opposites attract story and it was done really well. After they separate at the bar and start to know each other through text, you can tell that they would be great together. Not only did they have a connection, but these two were so funny and so sarcastic that I couldn't help but laugh. 
Me: "Is it possible to die from rolling your eyes so hard?"
Python: "You texted back, so apparently not."
Let's not forget that this also has a hot single dad, which you know is one of my tropes. Xavie was a younger version of Robbie and just as hilarious.
If you want to read about a guy who was funny and caring but who was also open about his feelings, the Robbie is your guy!. He was so swoon-worthy and always told Monty what he was feeling.
"I know this was supposed to light and fluffy and fun or whatever, but it's evolved. I want more than that. I want stability. I want real. I want you."
I highly recommend this book if you like romcoms and a book that will leave you smiling! 
---