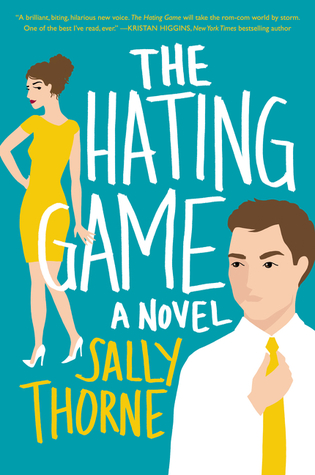 The Hating Game
by Sally Thorne
My Rating: ⭐⭐⭐⭐⭐
Nemesis (n.)
1) An opponent or rival whom a person cannot best or overcome;
2) A person's undoing;
3) Joshua Templeman.Lucy Hutton and Joshua Templeman hate each other. Not dislike. Not begrudgingly tolerate. Hate. And they have no problem displaying their feelings through a series of ritualistic passive aggressive maneuvers as they sit across from each other, executive assistants to co-CEOs of a publishing company. Lucy can't understand Joshua's joyless, uptight, meticulous approach to his job. Joshua is clearly baffled by Lucy's overly bright clothes, quirkiness, and Pollyanna attitude.
Now up for the same promotion, their battle of wills has come to a head and Lucy refuses to back down when their latest game could cost her her dream job…But the tension between Lucy and Joshua has also reached its boiling point, and Lucy is discovering that maybe she doesn't hate Joshua. And maybe, he doesn't hate her either. Or maybe this is just another game.
"I have a theory. Hating someone feels disturbingly similar to being in love with them."
What took me so long to read this? Seriously, I need my ass kicked for taking so long to read this. This was hilarious and had so much tension that I couldn't put this book down.
Enemies to lovers will always be one of my favorite tropes so this book was right up my alley. Could you imagine working directly across from someone you were sure you hated but also was terribly attracted to? I couldn't wait to see what game they would play next. 
Lucy and Josh had the two things I want in a couple. Chemistry and banter. OMG the banter here had me laughing out loud like a damn fool!
"What are you imagining? Your expression is filthy."

"Strangling you. Bare hands." I can barely get the words out. I'm huskier than a phone-sex operator after a double shift.

"So that's your kink." His eyes are going dark.

"Only where you're concerned."
The best part for me what that it was more than sex. I adored the moments when Josh would let Lucy inside his head and really let her see who he was. The only thing that could have made me enjoy it more was if we had Josh's POV. I would kill to learn what was going on in that head of his. Besides that, this book stole my heart and will definitely go down as one of my favorite romances. I can't for Sally Thorne's new release in January!
---