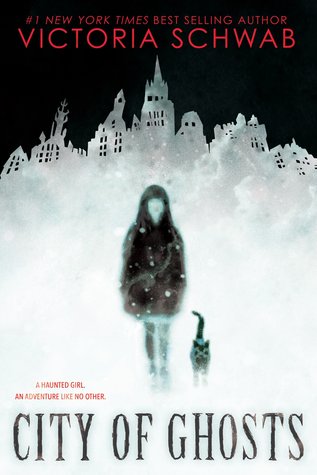 City Ghosts
Cassidy Blake #1
by Victoria Schwab
My Rating: 🌟🌟🌟🌟
Cassidy Blake's parents are The Inspectres, a (somewhat inept) ghost-hunting team. But Cass herself can REALLY see ghosts. In fact, her best friend, Jacob, just happens to be one.
When The Inspectres head to ultra-haunted Edinburgh, Scotland, for their new TV show, Cass—and Jacob—come along. In Scotland, Cass is surrounded by ghosts, not all of them friendly. Then she meets Lara, a girl who can also see the dead. But Lara tells Cassidy that as an In-betweener, their job is to send ghosts permanently beyond the Veil. Cass isn't sure about her new mission, but she does know the sinister Red Raven haunting the city doesn't belong in her world. Cassidy's powers will draw her into an epic fight that stretches through the worlds of the living and the dead, in order to save herself.
"People think that ghosts only come out at night, or on Halloween, when the world is dark and the walls are thin. But the truth is, ghosts are everywhere"
I don't really know how to rate middle grade but I'll give it a try. I apologize in advance in case this is a hot mess.
This was really good! I listened via audiobook and I loved the narration, it really made the book stand out more. I haven't read a lot of middle grade, but if they keep making them like this I certainly will start!
Cassidy died when she was in an accident but was brought back by Jacob, her now best friend who just happens to be a ghost. Ever since the accident, she's been able to go through the real world and the other side. She doesn't know why or how this happened. 
Moving on to the scare factor. I know this is middle grade but some of these scenes got to me. As we all know I am easily scared so that's probably why, but The Red Raven is a scary woman okay! 
The best thing for me about this book was the friendship between Cassidy and Jacob. It was lovely to read about. Also, there were a lot of Harry Potter references. Cassidy is obsessed with it, like the rest of us. It made the Slytherin inside very happy. 
All in all, I loved it and I can't wait for book two in this series! 
---