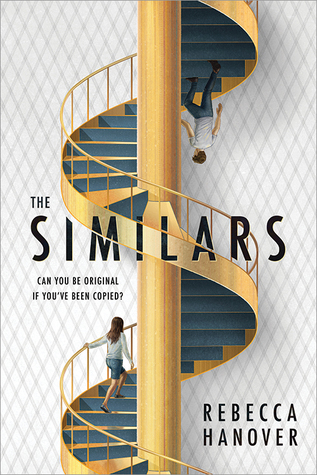 The Similars
The Similars #1
My Rating: ⭐⭐⭐⭐
Expected Publication Date: January 1, 2019
 When six clones join Emmaline's prestigious boarding school, she must confront the heartbreak of seeing her dead best friend's face each day in class.
The Similars are all anyone can talk about at the elite Darkwood Academy. Who are these six clones? What are the odds that all of them would be Darkwood students? Who is the madman who broke the law to create them? Emma couldn't care less. Her best friend, Oliver, died over the summer and all she can think about is how to get through her junior year without him. Then she comes face-to-heartbreaking-face with Levi—Oliver's exact DNA replica and one of the Similars.
Emma wants nothing to do with the Similars, but she keeps getting pulled deeper and deeper into their clique, uncovering dark truths about the clones and her prestigious school along the way. But no one can be trusted…not even the boy she is falling for who has Oliver's face.
Thank you to Sourcebooks Fire for providing a copy for an honest review. 
"The Similars – they aren't supposed to exist."
The concept of this book is what made me want to request this one. Clones. And not just clones, but clones of people walking side by side with the person who they look like. Could you imagine?
Our main character Emmaline goes to an elite boarding school that has just accepted the six Similars into their school. Over the summer Emmaline found her best friend Oliver dead after he committed suicide. Imagine her horror when she finds that one of the Similars named Levi looks just like Oliver.
For the most part, I really liked Emmaline as a character. In the beginning, she was very hard to connect with, but everyone deals with grief very differently. I've never had to deal with anything that she went through so I couldn't even begin to imagine what it would feel like to see a clone of the best friend that you just lost so tragically.
"Sometimes feeling things make you remember you're alive. And sometimes that is too much to handle."
My favorite part of this story was the advanced world that we were introduced to. It really gave me the vibes of Warcross in a way. Not with the gaming but with the technology.
There is also a mystery aspect here. You really don't know who you should trust. The Similars, the school, the parents. Everyone seems to have secrets and it really made it hard to put this book down. I couldn't wait to see what would get exposed in the end.
While I was shocked by some of the things revealed, most of the book seemed predictable to me. There were some things that I called at the beginning and some that I didn't. That is what really torn me about my rating for this one. Do I rate three stars because of the predictability? Or do I rate it four since even though it was predictable, it was fast paced and kept me reading?
Overall, I give this book four stars. I loved the advanced world that we get here and also I'm very curious to see where book 2 leads!
---