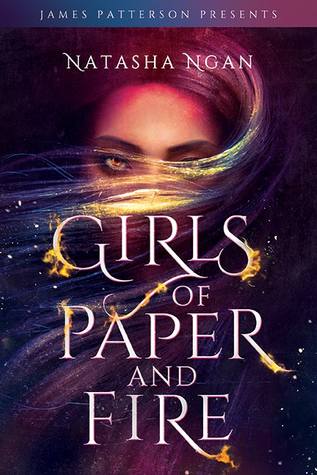 Girls of Paper and Fire
by Natasha Ngan
My Rating: ⭐⭐
Check it Out: Goodreads | Amazon | B&N
Each year, eight beautiful girls are chosen as Paper Girls to serve the king. It's the highest honor they could hope for…and the most cruel.
But this year, there's a ninth girl. And instead of paper, she's made of fire.
In this lush fantasy, Lei is a member of the Paper caste, the lowest and most oppressed class in Ikhara. She lives in a remote village with her father, where the decade-old trauma of watching her mother snatched by royal guards still haunts her. Now, the guards are back, and this time it's Lei they're after–the girl whose golden eyes have piqued the king's interest.
Over weeks of training in the opulent but stifling palace, Lei and eight other girls learn the skills and charm that befit being a king's consort. But Lei isn't content to watch her fate consume her. Instead, she does the unthinkable–she falls in love. Her forbidden romance becomes enmeshed with an explosive plot that threatens the very foundation of Ikhara, and Lei, still the wide-eyed country girl at heart, must decide just how far she's willing to go for justice and revenge.
TW: violence and sexual abuse.
This review is going to be all over the place I'm afraid. I really don't know how I feel about Girls of Paper and Fire, to be honest. I picked it up because of the hype surrounding it and I was prepared to love it. I was prepared to be wowed. Maybe it's just me and not the book because so many people loved this.
Should I say what I did enjoy? I like the world building and the different castes that are shown. I liked reading about the history and the differences between them. I also enjoyed Natasha Ngan's writing.
Some things that bothered were that I couldn't connect to any of the characters and that there were times that I was bored and wanted to skim. They spent a lot of time on the everyday routines of the paper girls.
Since we all know what romance is something I love, let me speak about that for a bit. I'm all for an f/f relationship. However, I wasn't really feeling the relationship between Lei and Wren. And when I say feeling it, I literally mean it. I didn't feel any chemistry between these two at all. If you would have taken out the romantic moments between then and told me that they were just really good friends, I would have believed that more.
Also, the rivalry between the girls was a bit daunting. These girls were the king's concubines, right? Why would she write them to fight? Can we stop making women fight over a man? Especially one that takes women against their will.
Overall, Girls of Paper and Fire was just okay for me. I hate to say that I won't be continuing with this series, but I just don't care about the characters or plot enough to read anymore.
**Trigger warnings for rape and abuse.
---
Instagram | Twitter | Goodreads