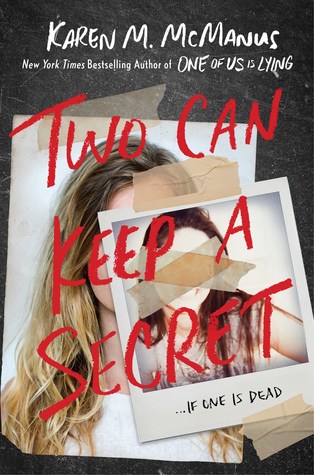 Two Can Keep a Secret
by Karen M. McManus
My Rating: ⭐⭐⭐⭐
Check it Out: Goodreads | Amazon | B&N
Echo Ridge is small-town America. Ellery's never been there, but she's heard all about it. Her aunt went missing there at age seventeen. And only five years ago, a homecoming queen put the town on the map when she was killed. Now Ellery has to move there to live with a grandmother she barely knows.
The town is picture-perfect, but it's hiding secrets. And before school even begins for Ellery, someone's declared open season on homecoming, promising to make it as dangerous as it was five years ago. Then, almost as if to prove it, another girl goes missing.
Ellery knows all about secrets. Her mother has them; her grandmother does too. And the longer she's in Echo Ridge, the clearer it becomes that everyone there is hiding something. The thing is, secrets are dangerous–and most people aren't good at keeping them. Which is why in Echo Ridge, it's safest to keep your secrets to yourself.
 I really enjoyed this one! Which I shouldn't really be surprised since I enjoyed her debut as well. We all know that mystery/thriller books aren't my thing. I never reach for them. Well, McManus must be the author that I will make exceptions for. I was absorbed from the first page and I think it's because it read like a contemporary. So while I loved it, take my thoughts with a grain of salt if you are really into thrillers.

From the moment Ellery and her brother Ezra land in Echo Ridge stuff start to happen. I keep reading that people are saying that this one isn't as good as her debut and I disagree. This book had turns and twists and the biggest thing for me was that I couldn't figure out who the killer was! From the small number of thrillers I've read, I have always been able to figure out the plot and who the killer was.
I really liked our main characters! The POV switches back and forth between Ellery who just moved to Echo Ridge and Malcolm who's a resident of the town. They form a relationship over what the town has taken from them. However, the best relationship here was hands down the one between the siblings Ellery and Ezra. Maybe it's because they were twins, but it wasn't your usual love/hate sibling relationship we normally get in YA. They had each other's backs and were each other's best friends. There was also some romance here. However, it wasn't the main thing going on and I was okay with that. I know! Who am I? The romance was very cute and subtle.
You really can't say too much about this book without giving it away. Just know that the town of Echo Ridge got some issues and that I wouldn't be moving there.
Also, the last few pages killed me and haven't left my mind!
---