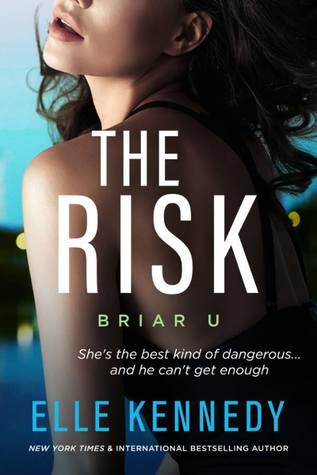 The Risk
SERIES: Briar U
by Elle Kennedy
My Rating: ⭐⭐⭐
Check it Out: Goodreads | Amazon | B&N
Everyone says I'm a bad girl. They're only partly right—I don't let fear rule me, and I certainly don't care what people think. But I draw the line at sleeping with the enemy. As the daughter of Briar's head hockey coach, I'd be vilified if I hooked up with a player from a rival team.
And that's who Jake Connelly is. Harvard's star forward is arrogant, annoying, and too attractive for his own good. But fate is cruel—I require his help to secure a much-coveted internship, and the sexy jerk isn't making it easy for me.
I need Connelly to be my fake boyfriend.
For every fake date…he wants a real one.
Which means this bad girl is in big trouble. Nothing good can come from sneaking around with Jake Connelly. My father would kill me, my friends will revolt, and my post-college career is on the line. But while it's getting harder and harder to resist Jake's oozing sex appeal and cocky grin, I refuse to fall for him.
That's the one risk I'm not willing to take.
Here comes the dreaded "I wish I liked this one more" review. Honestly though, I really do wish that I loved it. I guess it just came down to that I expected more and also couldn't connect to the characters.
I was so excited to read Brenna's story since it was first hinted about. For the most part, I did like Brenna. She was sassy and sure of herself. I loved the friendship between and her Summer. It was even as funny as I remembered reading in The Chase. 
Jake took a bit for me to warm up to. It took me a while to see that he was interested in Brenna more than just to sleep with her. He did end up growing on me but I still didn't end up loving him. 
The chemistry between them was there. It just wasn't scorching and burning through my kindle. This is the part where I wanted more. I wanted more than just sex. I wanted to feel the actual angst between them over the fact they couldn't be together. I wanted those feelings that would keep me invested and would make me root for them. I didn't find that here. To be honest, I found them to be a bit immature and aspirating at times. 
All in all, this one didn't live up to my expectations. However, that doesn't mean that it's a bad book. I'm pretty sure that I'm most likely going to be the only person who doesn't love it. Book three is scheduled to release in October and I'm PRAYING that it's about Hunter. I need him to get a HEA because he truly deserves one! 
I received an ARC for an honest review.
---
Instagram | Twitter | Goodreads