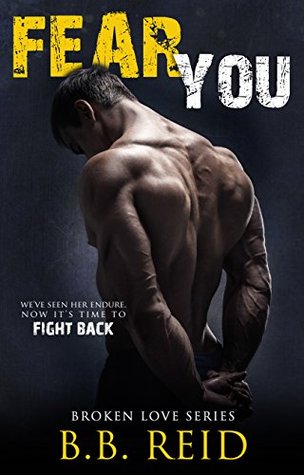 Fear You
Series: Broken Love
by B.B. Reid
My Rating: ⭐⭐
What happens when she's had enough?
Lake Monroe has given in to her childhood tormentor too many times. She knows it, he knows it, and even their enemies know it. When he returned after being found guilty of a crime he didn't commit—a crime he thought she set him up for, he returned darker than ever, demanding her body and her submission. To survive him, she knew she had to give in to fear once more or suffer the deadly consequences…
But Lake experienced what it was like to submit to the dark and demanding boy who invaded her dreams. Now she'll experience what it's like to fight him.
What happens when he wants more?
Keiran Masters has a past that is both shocking and dark. Once enslaved, he now has demons he can't escape—demons that have followed him for ten years, demons he blames his beautiful obsession for. He promised to make her pay. He promised to make her break…
But when Keiran conquered her body and tasted her submission, he found a new addiction instead—one he has no intentions of giving up.
As secrets unfold,
Identities are revealed,
Danger closes in,
And they both discover what it really means to fear…
I am so surprised that I actually made it to the end of this book. Ya'll! This was a damn mess and I wanted to DNF so many times along the way. It was the same thing over and over. All they do is either fight or fuck. Nothing else! 
Like I said in my review about book one, Keiran would have left me alone a long time ago. All this damn threating and slinging Lake around was irritating to read about. I'm still not even convinced that he loves Lake or even know what love actually is. For 10 years this girl was his obsession, not his equal. I don't know if I was happy that we finally got get his POV or scared by what I was reading. This guy is a fucking sadist and knows it. 
Lake. Everybody, let me introduce you to one of the weakest heroines I've read about in a long time. She kept saying that she was changed and she refused to let Keiran scare her or push her around anymore. Girl, go sing that tired ass song somewhere else. Anytime they were near each other or he even breathed her way she caved and cowered. 
I can't continue with this series after this book. After reading the reviews for the next book (which is Keenan's), it seems like he's even more of an abuser than Keiran is. So that's a nope for me, I'm not that much of masochist.
---
Instagram | Twitter | Goodreads