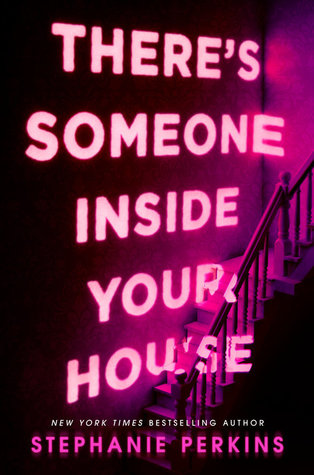 There's Someone Inside Your House
by Stephanie Perkins
My Rating: ⭐⭐⭐
Check it out: Goodreads | Amazon | B&N

Love hurts…
Makani Young thought she'd left her dark past behind her in Hawaii, settling in with her grandmother in landlocked Nebraska. She's found new friends and has even started to fall for mysterious outsider Ollie Larsson. But her past isn't far behind.
Then, one by one, the students of Osborne Hugh begin to die in a series of gruesome murders, each with increasingly grotesque flair. As the terror grows closer and her feelings for Ollie intensify, Makani is forced to confront her own dark secrets.
So I borrowed this from the library trying to change my genre so I can get out of my slump. While I'm not a thriller reader at all, I feel like I can still stay that this wasn't a true thriller. It read like a contemporary with a dash of gore thrown in.
While that sounds a bit negative, I don't mean it to be. This was kind of the story that I needed to read at the moment. It kept me thinking it about it while I was wasn't listening to the audiobook. I wanted to know who the killer was while I was on my lunch break at work. So for this book making me want to keep reading while I was in a slump, it gets three stars.
Another reason well person I should say that got this book three stars was Ollie. I have a thing for soft emo boys. I loved Ollie with his pink hair and his shy characteristics.
However, I did have some problems with it. Majority of this book was spent around Makani and Ollie's relationship. While we know I'm all about this romance, it was supposed to be a thriller man! While this was mainly about them, I felt as if we got dropped a gory murder just to call it a thriller. Some of the murders were thrown in at such a random.
Also, there were so many things that I wanted clarification on or an actual ending to. The reason behind the murders was guessed but never confirmed. I would have really appreciated an epilogue.
All in all, I appreciate this book for keeping my interest and playing a part in helping me read during my slump. However, I wouldn't classify it as a thriller and I did have some issues with it.
---
Instagram | Twitter | Goodreads