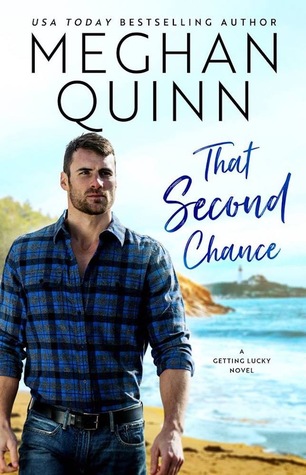 That Second Chance
Series: Getting Lucky
Meghan Quinn
Expected Publication Date: May 7, 2019
Check it Out: Goodreads
I had all I'd ever needed—but in the blink of an eye, everything changed.
It only took one rowdy night with my brothers to flip my world upside down. One disrespectful remark, and a mystical old woman cursed us with lonely, loveless lives. "Yeah, right," I thought. I had no idea.
Word spreads quickly in a town like mine; rumors about that night soon made us the most eligible yet untouchable bachelors in Port Snow, Maine.
It would have stayed that way if Ren Winters, the new girl in town, hadn't crashed into my life. Brave, beautiful, and smart—her vivacious thirst for a fresh start gives me hope for one of my own. Every moment I spend with her brings a new color to my world.
I want her. I need her. But I can't let myself have her. I can't risk her getting hurt.
Everyone wishes for that second chance…but can I open myself up again?
This was my first Meghan Quinn book. I know, I know. I've been living under a rock. This book had a very sweet romance, a wonderful family aspect, and kept me wanting more.
Let me first just say that I loved the world that Quinn created here. Everything seemed so cute and quaint that I really need this town to be real. She took her time in describing this New England atmosphere that I would love to experience firsthand.
Hands down my favorite part of this book was the family aspect. The Knightly family was so awesome to read about. These brothers and sister made the book with their humor and genuine love for one another. Their teasing of Griffin made me smile so many times that I lost count.
The relationship between Griffin and Ren was so cute and sweet. Although I was going to throw kindle out the window with how long it finally took for me to get some action. But when we did goodness, was it worth it.
"I can't even pinpoint a moment when I've wanted something as badly as I want your lips on mine." 
These two had me rooting for them ever since their first meeting. I can see why Griffin fell for Ren. She was cute and came off with such a good nature. She livened him and made him want to try love again. Reading about them falling in love was such a good way to spend an afternoon.
Now, I couldn't give it five stars because I did have some minor issues with it. This features trope that I don't really like to read about which is a dead spouse. For some reason, I just don't like that in romance. It always seems like there is so much focus on moving on and flashbacks of the previous spouse and that's what happened here. It could have been more focused on Griffin and Ren instead. But don't mind me, that's just a personal reason why I couldn't rate it higher. 
My other issues were how reliant Griffin was on this curse and also his predictable nature. It almost seemed as if he used the curse as a crutch to not get involved with Ren. It plays a part in his predictability as well. He pulled Ren in just to get to close and press the brakes on it over and over. I hated the back and forth in Griffin. 
Overall, yes I had problems with it but it made for a good book in a new series. I know that I will want to get my hands on a story about every brother in this family. It gave you steam and some heartfelt moments and I recommend this to those who like small town romances. 
I received an ARC via NetGalley for an honest review. The Quote was taken from an ARC and is subject to change upon publication.
---