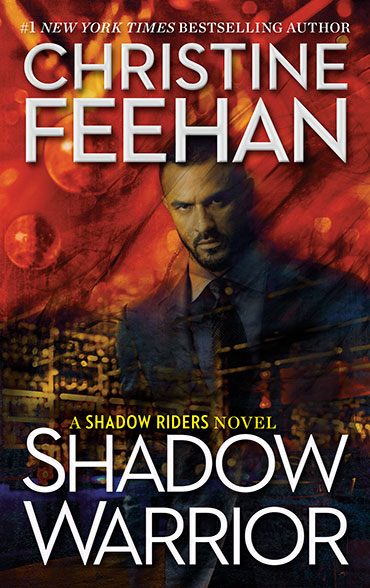 Shadow Warrior
Series: Shadow
by: Christine Feehan
Check it Out: Goodreads | Amazon | B&N
Danger inspires fierce passion when a serial killer threatens Chicago's Ferraro crime family in this novel in Christine Feehan's New York Times bestselling series.
Vittorio Ferraro is a man whose family loyalty knows no bounds. He would die for his siblings and the people they love, but what he really wants is to start a family of his own. Deep down, Vittorio has always known finding a woman who could ride shadows would be nearly impossible—let alone one who could accept his particular needs—and he never expected to find her in the middle of a kidnapping.…
Grace Murphy has always been drawn to Vittorio Ferraro—or at least to the billionaire's public bad-boy persona. Now that she's under his protection and the sole focus of his intense caring, she can't help wanting to get as close to him as possible. But Grace knows her presence is putting the entire Ferraro family in danger. Her monster of a brother will never let her go, but Vittorio has no intention of losing the woman whose shadow matches his own.
There is something about these Ferraro siblings that is addicting. Every time I read about them finding their "one" I always get sucked in and swoon every time. Every time I think I have found my new favorite Ferraro, another one comes up and steals the show and that's exactly what happened with Vittorio! 
This book starts off with a bang when Vittorio meets Grace being sold into human trafficking by her previous foster brother. As soon as he sees her he knows that she's meant to be his. Convincing her and keeping her safe will be hard. I loved these two together! Vittorio thought he would never find a woman that he would be able to have and let alone be comfortable with the lifestyle that he wants.
Grace was strong and I honestly don't know how she didn't crack under being around Hayden for so long. He trapped her and kept her in fear. So much fear that I was scared she wouldn't let Vittorio help her heal and find peace in living her life. She came out of her shell and gave him the submission he needed.
The relationship between these two was sensual and such a joy to read about. Vittorio needed someone who would let him dominate the relationship. Let him be in control in the bedroom and make choices for their life. Grace gave herself to him and it was great when you saw her beginning to trust him and gave him that power. 
However, I did have some issues. Feehan spends A LOT of pages dedicated to sex between these two and repeating things that have already been covered in previous chapters. This book could have been a whole shorter! I like sex scenes as much as the next girl, but like every other book in this series, it's drawn out and not really needed.
This was a good addition of the Shadow series and I really need a book on Emmanuelle really soon!
»Shadow Rider ★★★★
»Shadow Reaper DNF
»Shadow Keeper ★★★★
✨I received an ARC via NetGalley for an honest review.
---
Instagram | Twitter | Goodreads