Hi friends! I'm back with another post of mini reviews! This post will include a contemporary romance review and two erotic romance reviews!
---
Over Easy
SERIES: Main Street Single Dads
AUTHOR: Amelia Wilde
RATING: ⭐⭐
Goodreads 
This started off so good! I just knew that I was going to love this. How couldn't I? Single dad romance is one of my favorite tropes to read about. This was also hella funny. Like I was laughing so hard during some moments. So what happened? I'm still trying to figure it out.
While the chemistry was there, I'm trying hard to actually think of a time where this became something more than a fling. It was so focused on being just a fling and sex that I missed the moment it became more. Also, I really didn't like Ryder for Valentine. He came off as an asshole at first and then he did some things that I don't think he ever redeemed himself for. 
All in all, even though this had one of my favorite tropes it still couldn't save it for me. Also, I highly doubt I'm going to continue with this series since it's not on KU.
Cherry Pie
AUTHOR: Madison Faye
RATING: ⭐⭐⭐
Goodreads 
This was angsty and hot AF! I haven't picked up a Madison Faye book in a while and now I'm wondering why. I finished this in one sitting and was so into this book. She brought us a taboo romance, in love with her best friends dad and it was HOT! 
However, while I did enjoy it I did find the relationship a bit off. Seriously, every time either one of them said it was more than sex, I would roll my eyes. Sure Jan. I wasn't picking up on any vibes to make it seem as if it was anything but sex. 
If you like angsty age gap, then this one will be for you!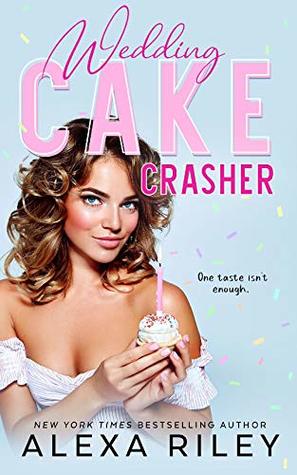 Wedding Cake Crashers
SERIES: Wedding Cake
AUTHOR: Alexa Riley
RATING: ⭐⭐⭐
Goodreads 
This was really sweet! Is that a pun? Oh well. With a character with the name Sugar, what else was I supposed to do?
I enjoyed our characters here and Sugar's obsession with wedding cake. Also, the epilogue was hands down my favorite part! I love that they still kept wedding cake a part of their lives down the road. 
While it was overall sweet and I did enjoy it, I just felt like something was missing. I don't know, maybe the usual Alexa Riley charm? Don't get me wrong, I still recommend it if you are a fan of theirs. It was just something that kept me from loving it completely.
---
So that wraps up my reviews of some of the romances that I have read recently. 
Thanks for reading!

 ♥