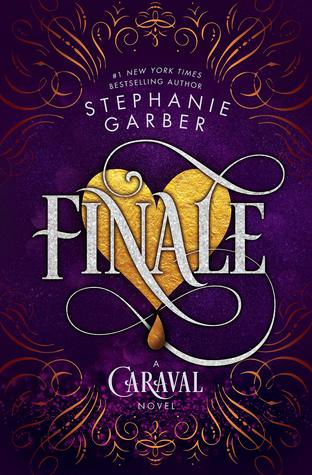 Finale
Series: Caraval
by Stephanie Garber
A love worth fighting for. A dream worth dying for. An ending worth waiting for.
It's been two months since the Fates were freed from a deck of cards, two months since Legend claimed the throne for his own, and two months since Tella discovered the boy she fell in love with doesn't really exist.
With lives, empires, and hearts hanging in the balance, Tella must decide if she's going to trust Legend or a former enemy. After uncovering a secret that upends her life, Scarlett will need to do the impossible. And Legend has a choice to make that will forever change and define him.
Caraval is over, but perhaps the greatest game of all has begun. There are no spectators this time: only those who will win, and those who will lose everything.
Welcome, welcome to Finale. All games must come to an end…
Y'all I expect to LOVE this book. I adored the first two books of this series so I just knew this would be a five star read. However, the characters and the length was a bit too much for me to enjoy this fully.
Let me get what I did enjoy out of the way. Garber's writing is lyrical and always entrances me in a spell. The way she paints a picture of the world in her books is always so beautiful.
My main gripe is that this could have been so much shorter! My goodness, this dragged in so many spots. We got quite a bit of repeated information and that was a bit annoying to keep going over.
Character wise, I have to say my favorite was Jacks. Is that an unpopular opinion? Oh well! I feel like he was the only one who either wasn't on a high horse or making terrible decisions. Also, He was nothing but honest about his intent from the beginning.
Scarlett annoyed me back in Legendary, but she straight up made me want to smack her in this book. Between her wanting two men to compete for her down to her "I'm better than you" attitude, I was fed up with her. However, I still loved Julian.
Tella. I still love her and think she's strong when she needs to be. However, some of her choices really made me scratch my head.
Legend was where I was so conflicted. I wanted to root for him but so many times I felt myself pulling back. I could get his way of thinking most of the time but his actions didn't always match. Let me be real honest here, I almost didn't really see a difference between him and Jacks most of the time.
The ending felt WAY too easily wrapped up. After everything that we went through with the fates and Caraval, I thought that we would have a more explosive ending. I mean, there twists that I didn't see coming, but that couldn't make for me feeling disappointed. Basically, this was rushed and not the ending I thought we would get.
All in all, I'm disappointed and hope that I enjoy her next book much better than this one.
---
Instagram | Twitter | Goodreads