Series: Beasts of Abigaile
By: Spica Aoki
Publisher: Seven Seas


Check it Out: 

Goodreads | Seven Seas

Synopsis
Tsukishiro Nina has just arrived in the beautiful country of Ruberia, and its charming denizens and lush scenery are like a fairy tale come true. That is until she's beset by a mysterious young man with a steely gaze and furry wolf ears—who promptly bites her! Nina finds herself turning into one of these beasts of legend, and whisked away to the prison of Abigaile where all their kind are sent. Nina must keep her wits about her if she's to learn the secrets of this magical world where everyone either makes her blood boil or her young heart race!
TW: Cruelty, suggestive comments, drug use
I read volume 1 of this manga back in March and for some unknown reason, I never picked up the second volume. Why did I take so long to resume reading this series?!  Barnes and Noble were having one of their sales on Manga and I picked up the other three. I'm so glad that I did because this turned into one of my favorite manga series!
Nina one day tries to stop a guy running from the police and ended up getting bit and turning into a wolf girl. They think she's one of the Luga and send her to Abigaile Island with the rest of them. Luga are a race of beast people with both traits and features of both human and wolf. Humans thought they were monsters and rounded them up and keep them in a castle to train and watch over. If they are deemed fit, they can be released in the real world but only to serve humans. 
I loved all of the characters we were introduced to. Especially our main character Nina! She was feisty and I love that she stuck up for people who couldn't protect themselves. She was damn near fearless and never wanted to see the Luga hurt. I couldn't wait to see how she survived her time on Abigaile Island. She definitely arrived with a bang! As seen below, she kicked a guard for hurting a child Luga. 

The friendships Nina made really warmed my heart! I don't want to play favorites, but if I had to then I would pick Dario! He cracked me up and was so loyal to his friends. Also, his sassiness added years to my life! 
 I found myself becoming so engrossed in this story! The artwork was stunning and the plot kept getting better each volume. Every Luga has a reason to hate humans. I really hoped that when Nina's secret came out that she would have earned their trust enough for them not to hate her. So many times this manga had me holding my breath! 
This wouldn't be a shojo manga if there wasn't any romance. Roy is the Luga that bit her and he did some questionable things. I do have to say that Nina and Roy had some major sparks! I know, he had some asshole moments this book. However, there was just something about seeing them together that makes me happy. Can we talk about the sexual tension between them?! Lord! I really wish we would've had more time for their relationship to form.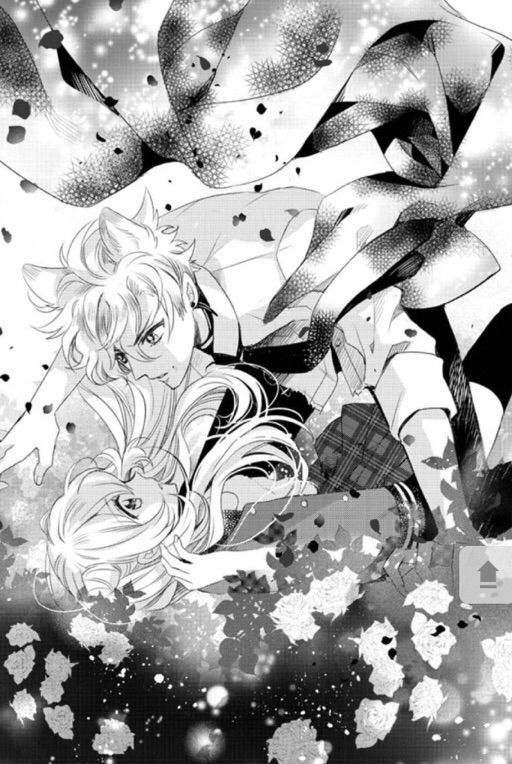 While this was a good ending for this series, it could have been better. You could tell that the story was rushed and wasn't given the true potential. Four volumes weren't enough for this story. However, after reading the ending note, I don't think it was the artist's doing to have it wrapped up so soon. 
Final Thoughts
This will go down as one of my favorite manga series, I just wish it was longer to cover more endings. I will definitely be looking forward to more manga from Spica Aoki! 💕
---