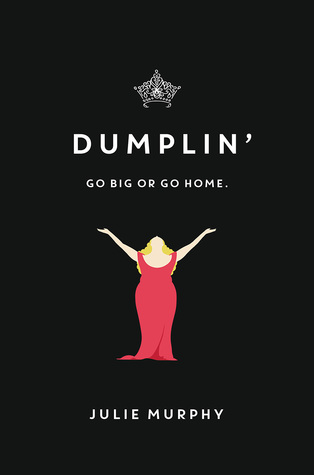 Dumplin'
by Julie Murphy
My Rating: ⭐⭐⭐⭐⭐
Check it Out: Goodreads | Amazon | B&N
Self-proclaimed fat girl Willowdean Dickson (dubbed "Dumplin'" by her former beauty queen mom) has always been at home in her own skin. Her thoughts on having the ultimate bikini body? Put a bikini on your body. With her all-American beauty best friend, Ellen, by her side, things have always worked…until Will takes a job at Harpy's, the local fast-food joint. There she meets Private School Bo, a hot former jock. Will isn't surprised to find herself attracted to Bo. But she is surprised when he seems to like her back.
Instead of finding new heights of self-assurance in her relationship with Bo, Will starts to doubt herself. So she sets out to take back her confidence by doing the most horrifying thing she can imagine: entering the Miss Clover City beauty pageant—along with several other unlikely candidates—to show the world that she deserves to be up there as much as any twiggy girl does. Along the way, she'll shock the hell out of Clover City—and maybe herself most of all.
With starry Texas nights, red candy suckers, Dolly Parton songs, and a wildly unforgettable heroine—Dumplin' is guaranteed to steal your heart.
I saw that this was being turned into a Netflix movie and was intrigued enough to purchase this book. I saw it so much at the bookstore and never picked it up. I want to go back in time and kick my own ass for not picking it up then. I really didn't expect this book to touch me in such a deep way. It brought out feelings from high school and now in the present.
I honestly don't think I can review this book in the justice that I think it deserves to express what it means to me. 
"Sometimes figuring out who you are means understanding that we are a mosaic of experiences. I'm Dumplin'. And Will and Willowdean. I'm fat. I'm happy. I'm insecure. I'm bold." 
What I loved the most about this book was that it was messy. It was real and wasn't a sugar-coated piece of fiction. Was Willowdean the best protagonist? No, but she came off as a real teenager. She wasn't the most optimistic, or the best friend she could be, but she felt so honest and real to me. I see a lot of posts about how she was negative and they didn't like her views on people. I don't know what this says about me, but I loved her negativity. She's a teenager, and I was almost the exact same way. I didn't have good things to say about people in high school. It sucks, especially being bigger. I guess I can understand her negativity.
The quote that stuck with me throughout reading was the one told to Willowdean by her aunt Lucy: 
"I've wasted a lot of time in my life. I've thought too much about what people will say or what they're gonna think. And sometimes it's over silly things like going to the grocery store or going to the post office. But there have been times when I really stopped myself from doing something special. All because I was scared someone might look at me and decide I wasn't good enough."
Let's talk about a few characters. Mitch, Ellen, and Bo.
One thing I believe everyone who reads this book can agree on is that MITCH DESERVES THE DAMN WORLD! He deserved the truth. Even if Willlowdean told him that she had feelings for someone else, he would have still been her friend. And I really enjoyed reading about them hanging out and getting to know each other. 
Willowdean and Ellen's friendship. Do I think she handled certain things wrong? Absolutely. I also think that they needed the break from each other. It really gave them the chance to see what it would be like without each other in their lives. 
I don't really have any feelings about Bo. Good or bad. I'm glad he got his head out of his ass about how he felt about Willowdean, but he could have honestly done that way before. 
I felt like this book showed the importance of finding yourself, learning what makes you happy, and building a fort of good friends around you. This is for anyone who has felt a certain way about their weight, friendships growing apart, and just being a teenager in general. I can't wait for the Netflix special to drop on December 7th and I hope that it does this book justice!
---